AdCONIP 2017 Program (Subject to Change)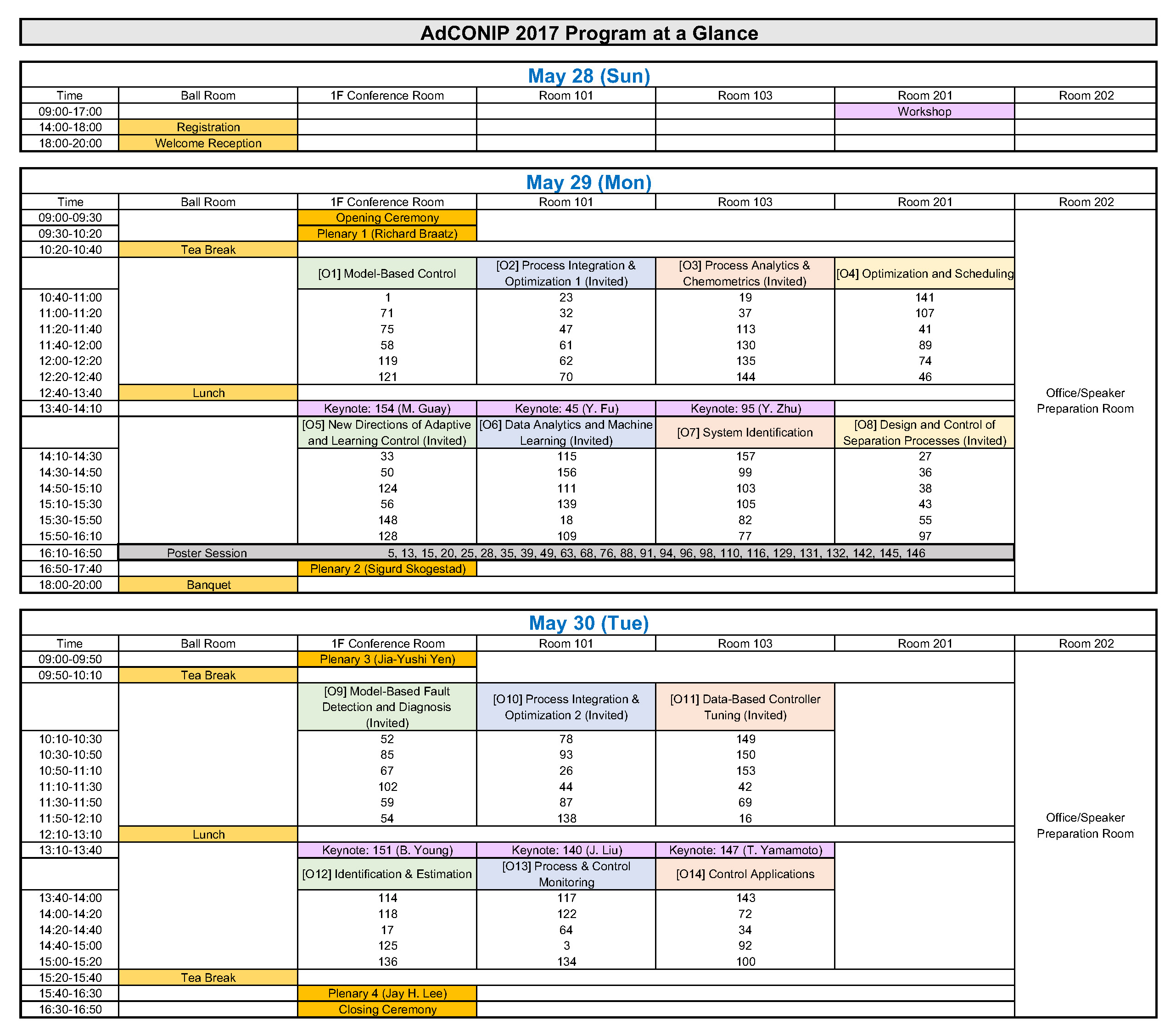 (Last updated: May 23, 2017)
Download
---
Optional Tour
An optional tour has been scheduled for Wednesday, May 31. You can sign up for the tour at the conference registration table on May 28 or 29. There is no charge for the tour. The schedule for the tour is as follows:
8:00-9:40 NTU Campus walking tour.
8:00 meeting at Hotel Lobby, visiting Department of Chemical Engineering.
10:00 Depart for the Palace Museum.
10:30-14:50 Free tour of the Palace Museum.
Guests will receive a ticket for a complimentary lunch at the museum.
15:00-15:30 Return to the hotel (free time; dinner is not included).
---
Plenary Speakers
Speaker
Department and Institute
Topic

Richard Braatz
Department of Chemical Engineering
Massachusetts Institute of Technology
Advanced Control of Pharmaceutical Crystallization

Sigurd Skogestad
Department of Chemical Engineering
Norwegian University of Science and Technology
Economic Plantwide Control

Jay Lee
Department of Chemical and Biomolecular Engineering
Korea Advanced Institute of Science and Technology
Combined Mathematical Programming and Stochastic Optimal Control Approaches to Multi-scale Energy Planning and Scheduling Problems

Jia-Yush Yen
Distinguished Professor, Department of Mechanical Engineering
National Taiwan University
Corneal Biomechanical Model and Intraocular Pressure Measurement